Easy as 1,2,3
---
Phone Blox™ Simple Steps to Safety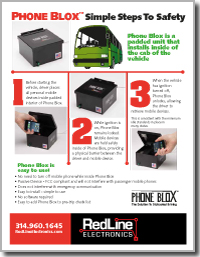 Phone Blox is a padded unit that installs inside of the cab of the vehicle
Before starting the vehicle, driver places all personal mobile devices inside padded interior of Phone Blox.
While ignition is on, Phone Blox remains locked. Mobile devices are held safely inside of Phone Blox, providing a physical barrier between the driver and mobile device.
When the vehicle has ignition turned off, Phone Blox unlocks, allowing the driver to retrieve mobile devices. This is consistent with the minimum idle standards in place in many states.
Phone Blox is Easy to Use
No need to turn off mobile phone while inside Phone Blox
Passive Device – FCC compliant and will not interfere with passenger mobile phones
Does not interfere with emergency communication
Easy to install – simple to use
No software required
Easy to add Phone Blox to pre-trip check list